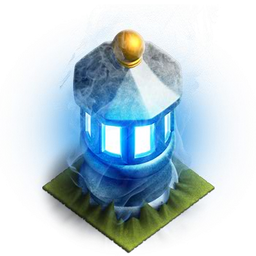 "The ancient magic of the Blue Fire Lantern doubles the benefits of On Fire Mode, making all of your troops more powerful when attacking while On Fire."
Information
Edit
Blue Fire Lantern is a special limited item worth 5 USD. It doubles the troops' health, speed and damage when On Fire Mode. The lantern is only available to buy every couple of months.
Blue Fire Lantern is a SUPER SALE! limited item like Fiery Demon Mortar. It's worth 5 US Dollar and consists:
Starting September 29, 2014 PST, Blue Fire Lantern and Fiery Demon Mortar are now available at the Shop. It can only be bought once. Once you already have it, it will disappear at the Shop.
Blue Fire Lantern costs 2,500 Jades

at the shop. It can be found at Decorations Section.
---