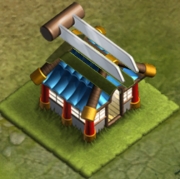 The Dojo is where you train Troops for your army. Upgrade the Dojo to unlock new troop types and increase training capacity. A level 7 dojo is the highest possible level, where you will unlock the Twister. There is an extra troop, called the Scorcher, but unfortunately there is is very little information on what it is, how it can be unlocked and its upgraded features.
IN-GAME DESCRIPTION: "The Dojo creates Troops for your army. Upgrade the Dojo to unlock new Troop types and increase training capacity."
Level
Health

Cost

(Sushi)

Upgrade

Time

Training

Slots

Troop

Unlocked

Palace

Requirement

Picture
1
190
100
2m
25
Grunt
Lvl 1

2

214

(+24)

500
20m

30

(+5)

Assassin
Lvl 1

3

238

(+24)

2,500
2H

35

(+5)

Ninja
Lvl 2

4

261

(+23)

5,000
4H

40

(+5)

Samurai
Lvl 2

5

285

(+24)

25,000
12H

45

(+5)

Thief
Lvl 3

6

308

(+23)

100,000
1D

50

(+5)

Ice Demon
Lvl 5

7

332

(+24)

250,000
2D

55

(+5)

Twister
Lvl 7

8
?
?
?
?
Scorcher
Toops are the major component of your army. Each troop has unique functions in combat and are more useful in certain conditions than others. When a Troop is created, it goes to one of your three Ships (only ones that have been repaired can be filled) and fills a certain number of your Troops Capacity on the Ship's cargo. Each Ship starts with a base 25 Troop Capacity that can be increased by upgrading the Ships. When in battle, Troops can only be deployed in valid Deployment Zones. Deployments zones are available on the outer edge of the Kingdom map and any place inside the kingdom that is not 1) Already occupied by a sturcture, wall, or decoration; 2) Not within 1 space on any side of any structure or wall (decorations do not count); 3) not occupied by an armed or triggered trap. The Deployment Zones are outlined with a grey line when an invalid Troop placement is attempted, except for spaces occupied by traps (armed or triggered).
Types of troop
Edit
There are 7 troops currently released and they are:
Obtainable
Edit
1) Grunt
2) Assasin
3) Ninja
4) Samurai
5) Thief
6) Ice Demon
7) Twister
The Scorcher a troop that is not yet available. In the far future, more may come known. However, there nothing has been said of troops beyond the Scorcher.
Not yet available
Edit
8) Scorcher
Note : As of 5/26/2014 , the highest level of Dojo is level 7. The Level 8 dojo is speculated.
Survivor Benefits
Edit
When your Dojo reaches certain levels, you have the opportunity to recieve certain Survivor Benefits.
Dojo lvl 1 - The Ammo Depot has a chance of recieving a Survivng Grunt.
Dojo lvl 3 - When any defensive weapon is destroyed, you may recieve a Survivoring Ninja, who will attack enemy Troops. If Ninja's are in Queue in the Dojo when it is destroyed, they have a chance of Surviving.
Dojo lvl 4 - If there are Samurai in Queue in the Dojo when it is destryed, they have a chance of Surviving.
If there is ship slots available, the dojo will say train
You cannot attack if there is 0 slots in the ship. It will say train more troops
Depending on the level, the dojo picture will represent the troop that recently unlocked
Community content is available under
CC-BY-SA
unless otherwise noted.