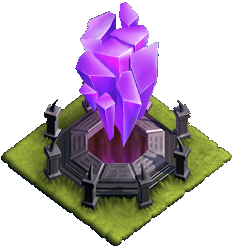 "The Shard Vortex generates Shards you can use to unlock or upgrade Beasts. Upgrade the Shard Vortex to increase the rate of Shard gain and Shard capacity."
Information
Edit
The Shard Vortex is a Shards producing building. It generates shards, a resource, to upgrade Beasts in the Altar. Unlike Jade Mine, it doesn't have workers.
The Shard Vortex is one of preferred targets of the Thief, however, a thief can never fetch any Shard from attacking a Shard Vortex.
| | | | | | | | | | | | | |
| --- | --- | --- | --- | --- | --- | --- | --- | --- | --- | --- | --- | --- |
| Palace  Level | 1 | 2 | 3 | 4 | 5 | 6 | 7 | 8 | 9 | 10 | 11 | 12 |
| Available | 0 | 0 | 1 | 1 | 1 | 1 | 1 | 2 | 2 | 2 | 2 | 2 |
| Structure Type | Produces | Survivor Benefits | Size |
| --- | --- | --- | --- |
| Resource | Shards | - | 3 x 3 |
Level
Health
Capacity
Rate Per Hour
Cost
Upgrade Time
Palace Level
Requirement
Picture
1
500
75
12
2,500
2H
3

2
525
100
15
25,000
1D
4

3
550
175
20
100,000
3D
5

4
575
275
28
500,000
5D
6

5
600
450
40
2,000,000
7D
7
---