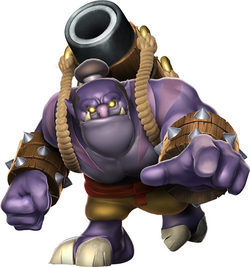 "The Taiho marches into battle with a powerful cannon strapped to its back. Taiho skills include a long ranged Bombard attack and an aura that buffs ground range Troops."
Information
Edit
The Taiho is a ranged beast in Ninja Kingdom. The Taiho can be upgraded by spending shards at the Altar, and the current max level of the Taiho is 60. You must unlock the Taiho with shards at a Beast Stone before you are able to summon him.
Health: Level Dependent
Damage: Level Dependent
Speed: Level Dependent
Range: 5
Type: Ranged
Target: Closest
Abilities
Edit
Bombard: The Taiho fires a super powerful long range cannon shot that does heavy splash damage on impact.
Range Aura: The Taiho emits an aura that buffs the attack value of all nearby ranged ground troops. The effect is temporary, and will end if the buffed troops are out of range of the aura for too long.
Level
Cost (Shards)
Upgrade Time
Health
Damage
Speed
Summon Cost (Sushi)
Summon Time
Ability Learned
1
2,000 (to unlock)
N/A
400
15
100
3,500
2m45s
-
2
480
1H
405
(+5)
16
(+1)
100
4,100
3m
-
3
720
2H
410
(+5)
17
(+1)
100
4,700
3m15s
Bombard Lvl 1
4
960
3H
415
(+5)
18
(+1)
100
5,300
3m30s
-
5
1,200
4H
420
(+5)
20
(+2)
100
5,900
3m45s
Range Aura Lvl 1
6
1,440
5H
425
(+5)
21
(+1)
100
6,500
4m
-
7
1,680
6H
430
(+5)
22
(+1)
100
7,100
4m15s
-
8
1,920
7H
435
(+5)
23
(+1)
100
7,700
4m30s
Bombard Lvl 2
9
2,160
8H
440
(+5)
25
(+2)
100
8,300
4m45s
-
10
2,400
9H
445
(+5)
26
(+1)
108
(+8)
8,900
5m
Range Aura Lvl 2
11
2,750
11H
450
(+5)
27
(+1)
108
9,500
5m30s
-
12
3,100
13H
455
(+5)
28
(+1)
108
10,100
6m
-
13
3,450
15H
460
(+5)
30
(+2)
108
10,700
6m30s
Bombard Lvl 3
14
3,800
17H
465
(+5)
31
(+1)
108
11,300
7m
-
15
4,150
19H
470
(+5)
32
(+1)
108
11,900
7m30s
Range Aura Lvl 3
16
4,500
21H
475
(+5)
33
(+1)
108
12,500
8m
-
17
4,850
23H
480
(+5)
35
(+2)
108
13,100
8m30s
-
18
5,200
1D 1H
485
(+5)
36
(+1)
108
13,700
9m
Bombard Lvl 4
19
5,550
1D 3H
490
(+5)
37
(+1)
108
14,300
9m30s
-
20
5,900
1D 5H
495
(+5)
38
(+1)
116
(+8)
14,900
10m
Range Aura Lvl 4
21
6,325
1D 7H
500
(+5)
40
(+2)
116
15,500
10m 30s
-
22
6,750
1D 9H
505
(+5)
41
(+1)
116
16,100
11m
-
23
7,175
1D 11H
510
(+5)
42
(+1)
116
16,700
11m 30s
Bombard Lvl 5
24
7,600
1D 13H
515
(+5)
43
(+1)
116
17,300
12m
-
25
8,025
1D 15H
520
(+5)
45
(+2)
116
17,900
12m 30s
Range Aura Lvl 5
26
8,450
1D 17H
525
(+5)
46
(+1)
116
18,500
13m
-
27
8,875
1D 19H
530
(+5)
47
(+1)
116
19,100
13m 30s
-
28
9,300
1D 21H
535
(+5)
48
(+1)
116
19,700
14m
Bombard Lvl 6
29
9,725
1D 23H
540
(+5)
50
(+2)
116
20,300
14m 30s
-
30
10,150
2D 1H
545
(+5)
51
(+1)
124
(+8)
20,900
15m
Range Aura Lvl 6
31
10,575
2D 4H
550
(+5)
52
(+1)
124
21,500
15m
-
32
11,000
2D 7H
555
(+5)
53
(+1)
124
22,100
15m
-
33
11,425
2D 10H
560
(+5)
55
(+2)
124
22,700
15m
Bombard Lvl 7
34
11,850
2D 13H
565
(+5)
56
(+1)
124
23,300
15m
-
35
12,275
2D 16H
570
(+5)
57
(+1)
124
23,900
15m
Range Aura Lvl 7
36
12,700
2D 19H
575
(+5)
58
(+1)
124
24,500
15m
-
37
13,125
2D 22H
580
(+5)
60
(+2)
124
25,100
15m
-
38
13,550
3D 1H
585
(+5)
61
(+1)
124
25,700
15m
Bombard Lvl 8
39
13,975
3D 4H
590
(+5)
62
(+1)
124
26,300
15m
-
40
14,400
3D 7H
595
(+5)
63
(+1)
132
(+8)
26,900
15m
Range Aura Lvl 8